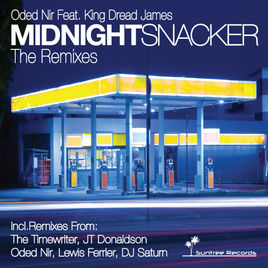 July 30, 2010
Oded Nir
Suntree Records
Following the succes of Oded Nir's debut album Midnight Snacker, Suntree Records brings you an unmissable remix-package for this summer. The 'Midnight Snacker' is the title song of the album of 'Mister Lounge' Oded Nir, featuring Amsterdam's King Dread James who blows us away with his dubby, raw voice-signature.
The original mix from Oded Nir has been redefined as The Timewriter, JT Donaldson, Oded Nir, Lewis Ferrier and DJ Saturn are teaming up together providing you the finest house music. This EP offers various themes of music, combining soulfulness and deephouse from the world's best talents.
Specially for Suntree Records, The Timewriter has made a deep, atmospheric and hypnotizing remix. A must-have for this summer! He released brilliant works over the years on labels such as Plastic City, Toolroom Records, Cocoon Recordings and Virgin. His musical contribution can be found back on worldwide respected mix compilations like Bargrooves, Fabric, Cafe Del Mar and Ministry of Sound.
Another remixer who definitely catches everyone's ears is JT Donaldson. JT has delivered a fantastic remix to this EP, which holds the famous JT grooves and house signature that we all know. For nearly 15 years his music got presented to the world through labels such as OM Records, Nordic Trax, Seasons Recordings and Large Records.
Lewis Ferrier brings us fantastic remix warm, Soulful & groovy a must have on every dance floor!  DJ Saturn delivers his mysterious sounds into his mix.His piano-melody's and strings-passages makes you want to hear more. Oded Nir has made a perfect, smooth variation to his original mix. His 'Oded Nir Deep Remix' contains fresh rhythms, which are tailor-made for the beach!
Be sure you don't miss out this magnificent package, filled with great remix-work by some of the finest names in the house-scene!