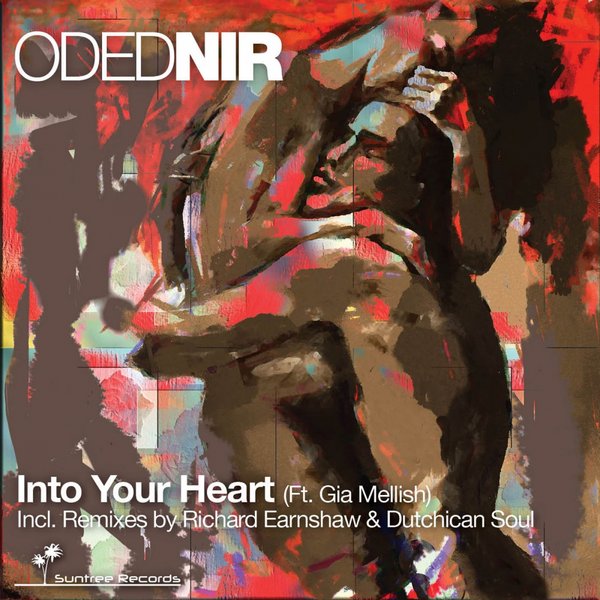 May 28, 2012
Oded Nir ft Gia Mellish - Into Your Heart
Suntree Records
Suntree Records gets you ready for spring 2012 with the release of ' Into Your Heart', brought to you by Suntree's front man Oded Nir, with Gia Mellish featured on vocals. Oded Nir just released remixes by Stimulated Soul, Tokyo Red Recordings and Bounce House while his own work, was remixed by many established producers including The Timewriter, JT Donaldson and Johnstar. Talented Gia Mellish delivers her sweet vocals on 'Into Your Heart' and scored the hit 'Hypnotized' with Sebastien Leger, and was further featured on Hed Kandi with the track 'Love Potion.'
Remixes are done by mister 'Living-soulful-house-legend' Richard Earnshaw, who's releases are found back on massive labels such as Defected, Ministry of Sound, Hed Kandi and well-known compilations such as Pacha, MN2S, Stereo Sushi and Bargrooves. We also have the globally supported Dutchican Soul on board, who had releases on many great labels such as OM Records, Soulfuric, Salted Music and Strictly Rhythm.
Oded Nir – Into Your Heart (ft. Gia Mellish) – Original Mix
Oded Nir's original edit of 'Into Your Heart' puts smiles on faces with its warm bass on the one hand, and the sweet, sweet voice of Gia Mellish on the other. The lyrics of ' Into Your Heart' are ideally meant for spring-'flings' that are going on this time of the year. Oded strengthens this flirtatious feeling with his guitar sections that take your mood right into the happy-zone.
Into Your Heart (ft. Gia Mellish) – Richard Earnshaw Boogie Vocal Mix
Richard Earnshaw's Boogie Vocal Mix is definitely one for the charts! The mid-tempo feel of Richard's remix is surrounded perfectly by the grainy bass and string-sections. On top of it, Richard added some really tight analogue sounds to give it that extra gritty flavor. Therefore, we at Suntree Records are proud to have Richard Earnshaw on this release of 'Into Your Heart'.
Into Your Heart (ft. Gia Mellish) – Dutchican Soul Remix
Another delightful remix on 'Into Your Heart' we have stems from Dutchican Soul. The remix has wonderful key and guitar-layers, sitting on top of the punchy, analogue bass. The continuous rhythm of the drums will keep your feet moving!